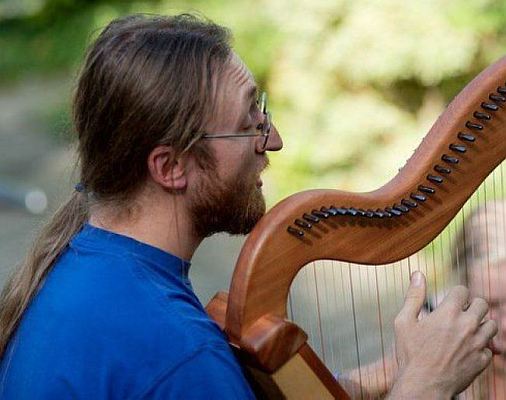 Born in Czechoslovakia but living in Sweden since a number of years now, Josef is also the founding father of the Nordic Harp Meeting: In 2008, after having just been to a harp gathering in Prague, he felt the need to bring together those in Fennoscandia who play harp, kantele, lyre and other weird nearly-forgotten instruments at one place to teach tunes to each other and exchange ideas, and he realized this idea by organising the first Nordic Harp Meeting in Lund. He has been involved in almost every subsequent edition (except the one in Estonia in 2017) and he is also maintaining this website.
For the virtual Nordic Harp Meeting 2020, Josef has made some simple harp arrangements of several Scandinavian tunes (Click here for download).
At the Nordic Harp Meeting 2019 in Gjøvik, Josef gave together with Václava van der Meijs a workshop for intermediate to advanced musicians with some catchy traditional tunes from Bohemia and Moravia, the two biggest regions of Czech Republic. In this self-proclaimed "heart of Europe", nearly every dance tune also has lyrics – mainly about love, death, alcohol, or a combination of those. (But if you dig deeper into the folk collections, you can also find more archaic folk songs with epic ballad character, in numerous cases with a discernible relationship to other pan-European balladry.)
At the Nordic Harp Meeting 2018, Josef gave a lecture about the historical evidence of harps & harp music in the Nordic countries. He included also a brief overview of other musical instruments which are or have been called something with "harp" for historical reasons in the Scandinavian languages – including the lyres depicted on medieval Norwegian stave churches such as the one shown in the photograph below.