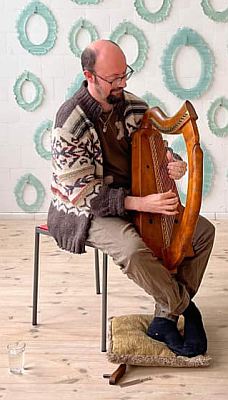 "Although French born, I have been immersed all my life in Scottish Gaelic music and language. I recently successfully defended a PhD on the early Gaelic harp and specifically Edward Bunting's works. This PhD is soon to be published, but meanwhile I invite you cordially to a lecture in NHM, during which I will overall my doctoral work, to be followed by a workshop in which we will revisit a « hit » Carolan piece and see how the most recent insights on the old harpers' style and techniques, could be reinvested into new and exciting playing options in the Now. Part of the presentation will be devoted to my interaction and collaboration with Pillimeister Mihkel Soon / Mihkel Soon Traditional Instruments, an Estonian harp maker and a presentation of his work and the challenges of making « early Gaelic harps » anew modelled from the museum instruments.
All harps, techniques and frames of mind are welcome, this lecture + workshop mostly aims at informing and having fun !"
Dr. Vincent Laine-Michaud is a half Breton and half Scottish musician and dancer, now living in Finland. As a professional artist, Vincent plays the Gaelic wire strung-harp. He has studied archaic wire-strung harp techniques for many years, as well as the historical documents connected to ancient Gaelic harps, which were also subject of his PhD thesis.
At previous Nordic Harp Meetings, Vincent gave the following workshops and lectures: