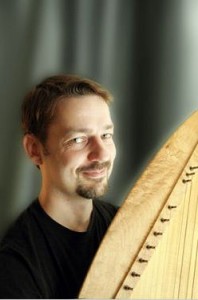 Timo Väänänen is a Finnish kantele player, singer and music teacher at the Sibelius Academy. He is also member of the groups Loituma, Matara, Á tre and Taith. Timo contributed to the NHM 2012 with
a concert lecture "Ancient Lyres in Modern Context" together with Rauno Nieminen (including: Novgorod lyre, West Siberian lyre, jouhikko, kantele, instrument building, playing and performing in modern enviroment, microphones, improvisation, composing, traditional small kantele technique on Novgorod lyre)
a kantele + dance performance together with Vincent Michaud.
the lecture "Kindred of Kantele: North East European and West Siberian kantele-like zither and lyre instruments – 16 different ethnic groups":
The Kindred of Kantele project researches the North East Europe psaltery, lyre and zither instruments somewhat similar to Finnish kantele in Finland, Baltic countries, Russia, Poland, Belarus and Ukraine. This kind of knowledge has never been put together before in the Finnish language.
The project doesn't aim for a scientific definition of the kantele but it tries to document and describe – in various methods – different aspects of the present-day life of this instrument. We've gathered information on field trips in Russia, Udmurtia, Tatarstan, Mari Republic, Chuvashia, Poland, Lithuania, Latvia, Estonia, Finland and Karelia, so far. The main goal is to publish a 5-part book and recording series. In 2012 we produced 17-part radio series for the Finnish YLE Radio 1.