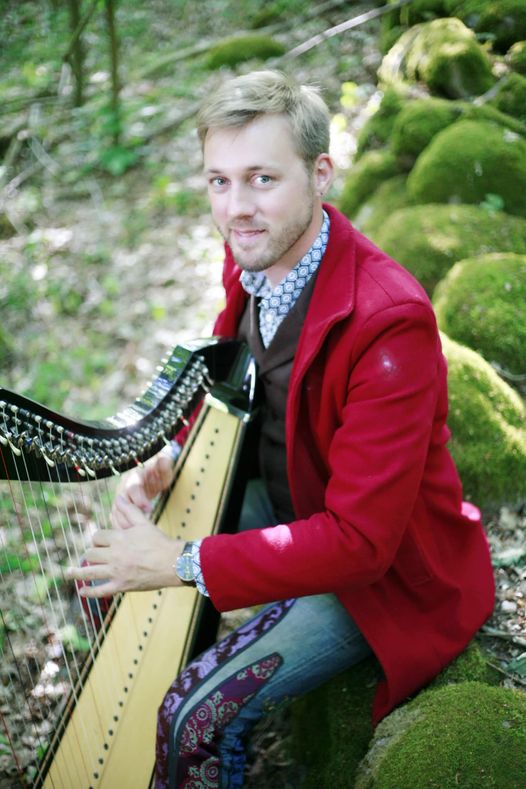 Niss Stricker will inspire us this year with a beautiful workshop and an exciting lecture.
Welcome to the workshop "Old Danish dance music for lever harp" – Learn to play Danish music from the 18th century. With a special emphasis on the folk-menuets from the Brother's Bast manuscript. The workshop is for intermediate level, and taught by ear primarily.
The lecture: "Why bother about overtones? Considered the overtones when working on left hand accompanyment. Playing outside the comfortzone of left hand successive fifths – peaceful lefthand accopanyment"
Storyteller, harper, composer and prolific Danish songwriter Niss Stricker is on a never ending musical journey. With extensive studies in Indian music, Scandinavian ballad singing and Gregorian chant, Niss is always searching for the common human heritage in music: "Music gives wing to the soul, it is a way of urging the spirit soar above mundane worries. All that can be found in a melody."
His harp studies began in France and since returning to his home country he has given many concerts both at home and abroad. The concerts are a mix of storytelling, singing, and music. Alongside playing the Celtic harp and guitar, Niss has also studied the Indian sitar and Hindustani classical music.
At previous Nordic Harp Meetings Niss has taught several workshops, including
– Danish folk ballads
– Danish folk tunes with special focus on the polka and the hopsa
– Indian music and improvisation
– Danish folk tunes with focus on the collection of Rasmus Storm