Agnethe's workshop will focus on how to use the kantele and gusli (and other "harps") in monodic medieval music 11-14th century with examples from French Troubadour/Trobairitz, Italian Laudasongs, English carols and Swedish/Danish medieval ballads.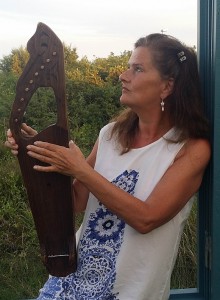 Agnethe Christensen comes originally from Sweden. She studied at the Royal Danish Conservatory and specialized in renaissance and medieval singing with Andrea von Ramm in Basel and furthermore in Rome and Paris.
Agnethe's expertise is within the field of early music and folk music where she performs and records CD's worldwide with well known ensembles such as Ensemble Ferrara, Sequentia, Ulv and Alba. She composes new/early music to early Norse poetry, Scandinavian medieval ballads and old texts and creates new possibilities/ and platforms for medieval music.
She accompanies herself on various string instruments, among them the Baltic kantele, Nordic lyre and ancient cittern and works with prerecorded music, noise and words.
At the Nordic Harp Meeting 2016, she gave a workshop about (Re-)constructing music in medieval style [for all instruments] and lectured about her style to play the Novgorod lyre during the "Lyra galore" lecture.
For more information, see her website: http://www.agnethechristensen.org