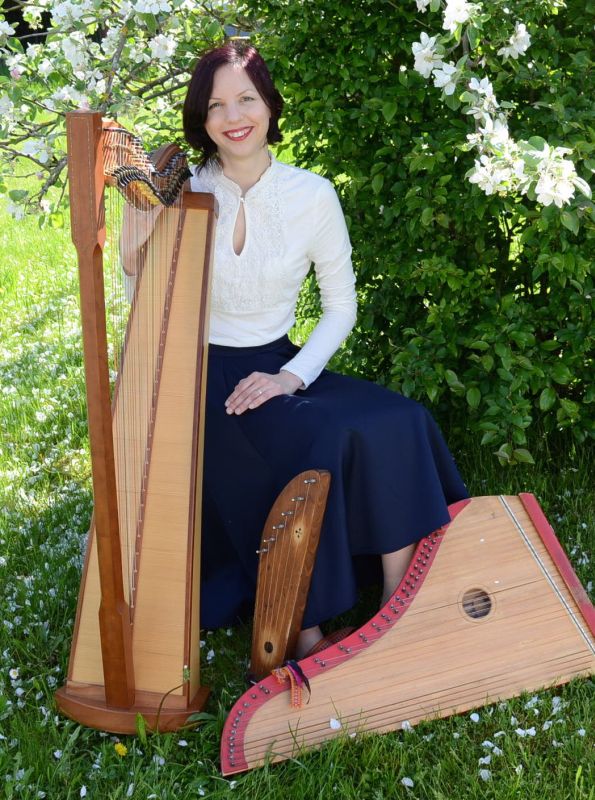 Kaisa Nõges is a musician from Estonia. She has studied traditional music at the University of Tartu Viljandi Culture Academy, specialising in Estonian diatonic zithers (kannel). She has taken harp lessons from Kai Visnapuu (classical music, pedal harp), Lilian Langsepp (12th-16th century music, arpa doppia, Bohemian harp), Lily Neill and Lisa Canny (Celtic music). Kaisa is fond of playing traditional and early music. She also finds it interesting to create improvisational and meditative music. On the meditation CD "Tänu" (by Svetlana Nikolajeva, 2014) part of the musical background was created by Kaisa.
In 2011-2014 she was a member of Estonian Folk Orchestra that played at the following festivals: Viru Folk (Estonia, 2013), Umefolk (Sweden, 2013), Viljandi pärimusmuusika festival (Estonia, 2012), Jazzkaar (Estonia, 2012). The orchestra released the CD "Imemaa/Wonderland" (2014) where Kaisa played kannel (small zither) and Bohemian lever harp.
Currently Kaisa plays in the ensemble Harfihaldjad.
Click here to read what Kaisa was teaching at the previous Nordic harp meeting in Viljandi.