Workshop with Anouk Platenkamp & Triin Hio: Therapeutic Harp Music
An introduction to playing therapeutic music on the harp. The class lets students experience the different modes that are used to create a mood for the listener. Students will learn the basics of improvising in the modes. All of it is complemented by the personal experiences of playing therapeutic music in different setting that Anouk will share, and tips and tricks she has learned over the years.
Anouk will also give a lecture; "Music theory in practice: applied theory for the harp"
Did you know that music theory can actually be fun? It is when it helps you better understand the music that you are playing! Anouk will take students over scales, arpeggios and intervals and show students how these concept can benefit their playing. Students are encouraged to bring pieces they are working on, to analyse these in the workshop to better understand them.
…and a workshop: Nederfolk – Dutch Folk music
Did you know the Netherlands has its own folk music? Although Dutch musicians often play tunes from abroad, the Dutch folk repertoire has some lovely tunes and songs that can be played on the harp. Some of the music was written down as far back as the 17th century, with some songs that even date back to the middle ages, but there is also more recent repertoire. For this workshop Anouk has adapted the music to be played on the harp, with a nice contemporary accompaniment to go with it.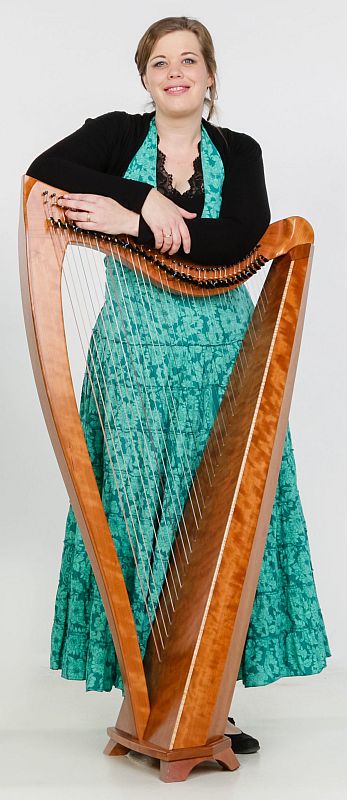 Anouk Platenkamp is a harpist from the Netherlands who plays classical pedal harp and Celtic harp. She performs a wide range of music, from classical and jazz to traditional folk music, both as a soloist and together with other prominent Dutch musicians. Anouk has been teaching harp at festivals in the Netherlands, Belgium, Germany, Scotland, Sweden, and most recently also in Denmark. As part of her goal to promote the Celtic harp, she has also founded the International Harp Friends Meeting.
For more information about Anouk, visit her website: http://www.harpiste.nl
At the Nordic Harp Meetings 2012 and 2016, she taught workshops about the role of different modes to create emotions (Click here for more details).