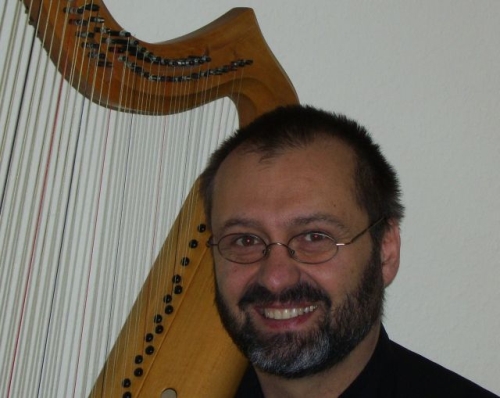 Stefan Battige has studied historical harp at the Early Music Academy in Bremen (Germany) and plays several historical harps (metal-strung clàrsach, medieval harp, Gothic harp, Italian arpa doppia, and modern Celtic harp) with focus on medieval music and Celtic traditional music, ballads, dances and improvisation with many nuances.
At the first NHM 2008 in Lund, Stefan gave a lecture and a workshop about Historical harps and demonstrated historical playing techniques. At the NHM 2014 in Gjøvik and 2017 in Viljandi, Stefan taught harp basics to beginners.
At the NHM 2017 in Viljandi, Stefan gave also a second workshop with wire-strung harp techniques, which was also of interest for kannel/kantele players who are used to wire strings, just as well as for nylon harpists who wanted to experience different methods.

Stefan gave also a lecture about Wiczlaw von Rügen, a minnesinger from the Baltic Sea.