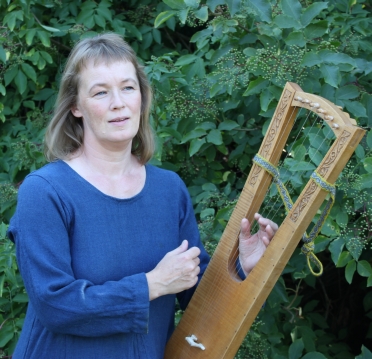 Maria grew up in Finland, singing and playing piano and violin at Musikinstitutet Kungsvägen. She later studied literature at Helsinki University, graduating in 1995. In 1991 she moved to Denmark and has since 2000 worked in Vikingelandsbyen Albertslund – a reconstructed Viking-age village, offering experimental archaeology and participatory activities for children from the local community as well as volunteers.
Maria has also organised the magnificent Nordic Harp Meeting 2016 in Albertslund, Denmark, and in 2020 she will organise it again in Albertslund.
At the NHM 2015 in Turku, she gave a workshop about Danish folk songs/ballads, including a short survey of the ballad tradition in Denmark from ancient times to present. She presented a brief view on the musical structures of the folk songs and discussed the technical possibilities of the 6-stringed lyre which she uses for the accompaniment when singing them. The participants received a selection of ballads with simple arrangements and sang and played as many of them as possible.
At the NHM 2018 in Lund, she held a workshop about folk songs of the supernatural: Fairies, trolls, mermaids… The lone human, encountering a paranormal being, is one of the most common themes in ancient tales and lore, their roots stretching back thousands of years. Also the Scandinavian Ballads offer a remarkably rich representation of these stories. In the workshop, we looked at a selection of songs where this motive is handled in different ways. For good measure, we also casted a brief glance at the Scandinavian Ballads in general, where they came from and where to find them.

Read here about the workshop "Piae cantiones" which Maria gave at the Nordic Harp Meeting 2019 in Gjøvik.