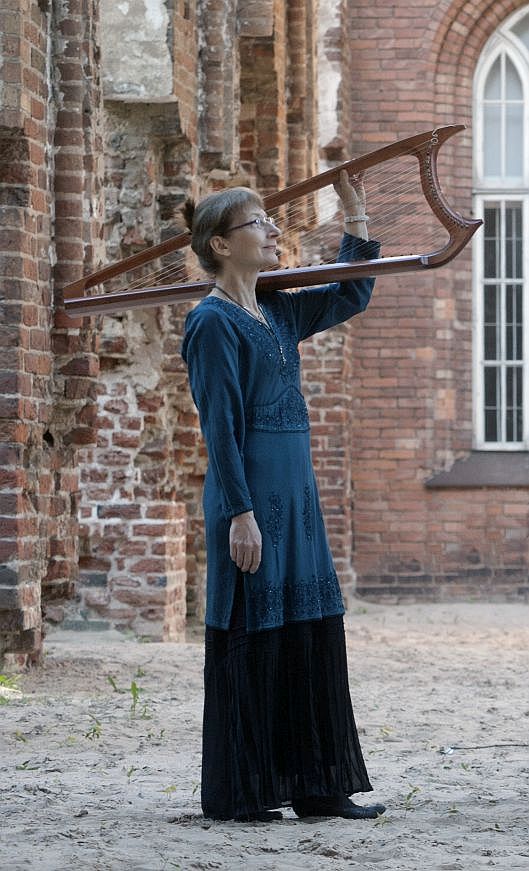 Versatile musician Lilian Langsepp plays harpsichord, organ, historical harps, guzheng and is singing and teaching Gregorian Chant. Since 1994 she has been active in recording and performing with various early music groups and as a soloist and has performed at numerous festivals and concerts in Europe, Asia, Argentina and the USA. She is also the founder and conductor of the choir Schola Gregoriana Tartuensis.
L.L. has devoted herself primarily to the repertoire of European baroque and medieval music but her performances include also music from Asian traditional cultures, mainly Chinese and Persian classical music. She has learned Hindustani classical and Chinese music from such eminent musicians as Ustad Ali Akbar Khan and Fan Ran. Her postgraduate studies at the Schola Cantorum Basiliensis, Switzerland (1997–2000) focussed on historical harps and early music performance practice. Over the years she has developed her personal harp playing style for gothic harp which has been influenced by different styles in Asian classical music. Her aim has been to research and revive the harp-like instruments and playing techniques in Asian musical cultures as well as to use these techniques in European medieval music interpretation and improvisation.
Ms. Langsepp is lecturer of music at the University of Tartu and teacher at the H. Eller Music School. She has worked for Tartu Early Music Festival as consultant and editor since its start in 1996. In recent years L.L. has put a lot of effort to work on concert programs for the historic XIX century harp which has been restored at her initiative by Roland Suits.
Lilian Langsepp is currently working on her doctoral thesis in the University of Tartu, focussing on philosophical analysis of music perception.