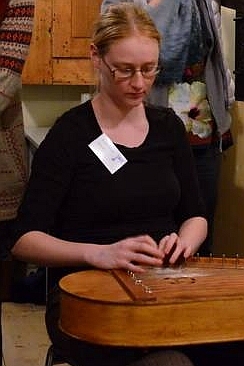 Eeva-Kaisa Kohonen is a kantele player from Finland. She studied folk music at Sibelius Academy's Junior Academy in 2005-06 and graduated in musical pedagogy from Centria University of Applied Sciences in 2011.  She teaches and composes and appears on several appraised cd:s, hereamong 2011 "Erkki ja tytöt" that in 2011 was chosen as the kantele-cd of the year  by Kanteleliitto. (Listen here: Virkkaajan sottiisi). Eeva-Kaisa has also an impressive list of awards from different musical competitions around Finland.
At the Nordic Harp Meeting 2017, Eeva-Kaisa Kohonen gave together with Katja Nyuppieva a workshop "Finnish and Karelian lyrical songs and lullabies: melodies on kantele/harp, singing and arrangement".
Read here what Eeva-Kaisa was teaching at previous Nordic Harp Meetings.