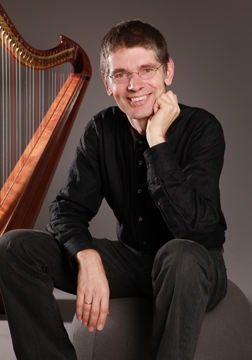 At the Nordic Harp Meeting 2014 in Gjøvik, Tim Rohrmann will teach how to make harp music out of a simple melody: This workshop looks at the wide range of harmonic and rhythmic possibilities of the (celtic) harp for transforming a (traditional) melody to a piece of harp music. Two different approaches will be shown, one coming from traditional celtic music, the other introducing modern influences. We will look at a traditional Norwegian, an Irish and a modern Swedish tune.
Tim is a German harp player and harp teacher who has developed a very personal style for more than twenty years now. His repertoire on the harp includes medieval and traditional folk music, as well as jazz standards and improvisation. He has been travelling widely in Scandinavia with his harp for many years, and his music is inspired by traditional folk music of the Celtic and Nordic countries as well as by travel adventures, magic places and the beauty of Scandinavian landscapes, e.g. Ales Stenar in Skåne or Jotunheimen in Norway, his "second home". In his own compositions traditional elements are brought together with influences from jazz and world music. One of his special interests are connections and cross-over between Celtic and Nordic music: For example, he loves to transform a slip-jig into a polska and back again…
At the Nordic Harp Meeting 2008 in Lund, Tim gave a workshop about how to use traditional folk music as a source for improvisation and composition.